Mealworms
Please note that all of information provided on our website about our products is meant to be informative only. For more information regarding prices and shipping (within Canada only) please visit our store in Barrie (515 Bryne Drive, Barrie, ON), phone us (705) 726-7600 or send us an email [email protected].
Many birds eat insects naturally, so feeding mealworms to the birds is a natural thing to do. Plus, you'll enjoy watching birds such as chickadees, Eastern Bluebirds, wrens, woodpeckers, American Robins, catbirds, nuthatches, thrashers and others devour these mouthwatering morsels! A Red-breasted Nuthatch was seen taking mealworms from a feeder, and catching them at a rate of three per minute. Mealworms are high in protein and attractive to a wide variety of birds.
Mealworms are the larvae of the beetle Tenebrio molitor. The larvae stage of the beetle typically lasts for 10 weeks. To maintain the larvae in a state of dormancy, they must be refrigerated at 4 to 10°C (lower temperatures can kill the larvae). You can keep mealworms for several weeks and they will maintain their dormant state.
Birds typically look for food around the same time each day, so you can place worms in a feeder or tray at the same time the birds regularly visit. Make sure the birds can access the feeder but that the worms can't crawl out! Some Wild Birds Unlimited feeders to consider are Mealworm Feeders. Mealworms are a great way to attract birds that don't ordinarily come to seed feeders.
Mealworms can be fed both alive or dried, although many birds prefer the live mealworms as they typically eat live insects in nature. Most of the birds we feed in our backyard eat insects as a large part of their diet, feeding mealworms will please these insect eating birds. Mealworms attract a host of birds including: American Robins, Eastern Bluebirds, jays, sparrows, finches, Northern Cardinals, woodpeckers, nuthatches, wrens, chickadees, warblers and even Purple Martins.
See a video about feeding mealworms at the bottom of this page.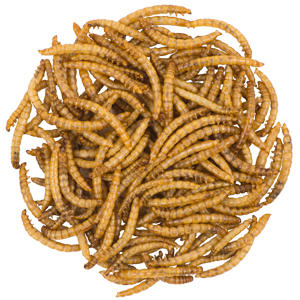 Live Mealworms: Live mealworms are a wonderful treat for your backyard birds. Your backyard birds will gobble these insects up. They can be offered in a wide variety of dishes and feeders. Live mealworms need to be kept in the fridge which keeps them cool and in their larval form. WBU Barrie sells live mealworms in quantities in 1,000, 2,000, 2,500, 5,000 and 10,000.
Container Size: Approximately 1,000 mealworms per container.

Container Size: Approximately 2,500 mealworms per container.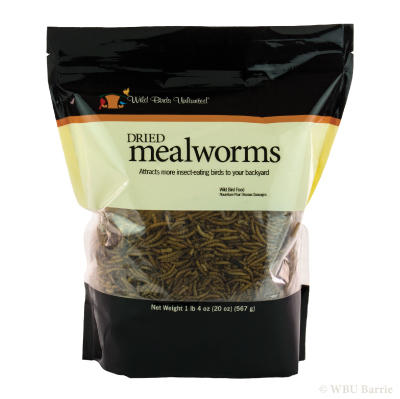 Dried Mealworms: Dried mealworms can be offered from just about any feeder, and there are some feeders on the market especially made for feeding mealworms. Most birds will eat them right from a dish on the ground. They can also be mixed into some seed or Bark Butter Bits as a treat for the birds. Dried mealworms contain lots of protein, making them a healthy snack for your backyard birds.
Two Bag Sizes Available:
Bag Size: 4 Oz (113 g) or approximately 3,250 mealworms per package.

Add me to your MyWBU Online Order - Include SKU #190302 in your Order Notes at Checkout.
Bag Size: 20.0 Oz (567g) or approximately 13,000 mealworms per package.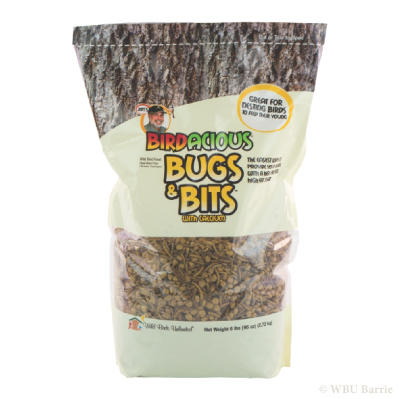 Bugs & Bits Blend: Jim's Birdacious Bugs & Bits Blend offers your birds densely-packed nutrition by combining our popular and versatile Bark Butter® Bits with Dried Mealworms. This combination can be used any time, but is especially popular with birds during nesting, and will help attract insect-eating birds to your yard. Includes calcium to help egg shell and bone development. Try offering this nutritional delight in our WBU QuickBites™ Feeder, the Combo Mealworm, Suet Balls, Peanut Feeder or try it in one of our Window Feeders.
Bag Size: 6 lbs (2.72kg)