Each Gift Basket Includes:
1 Ceramic Bird Mug (choice of 4 designs)

1 Tin of Tealish Loose Leaf Gourmet Tea (6 flavours)

1 Belgian Chocolate Treat- Spring Flower Design

1 Bar All Naturally Locally Made Wilderness Soap Co.

1 Bird Nail File

FREE Wrapping in a beautiful Bird House Gift Box
Orders received April 16, 2017 get a FREE quilled greeting card- blank inside (valued at $9.99)
ADD a pair of earrings, bee house or pair of Solmate Socks to the gift basket FOR ONLY $20 (SAVE $5!)
The Joy of Bird Feeding Has Arrived!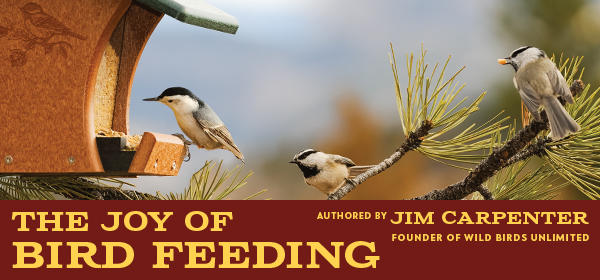 Filled with useful information and illustrated with more than 800 images and 180 maps, The Joy of Bird Feeding is the essential guide for anyone who loves to feed the birds.
In this book, Jim Carpenter, founder and president of Wild Birds Unlimited, shares a lifetime of bird feeding passion and experience, answers common hobby problems and provides fun bird feeding activities to share with family and friends.
Stop by our store to get your copy!
$38 Each - or- ...

Spend $200 or More in Store; Get Your Copy for $10*
Spend $100 or More in Store; Get Your Copy for $20*
*Offer valid with $100 or more/$200 or more, spent in store before taxes and after all Bird Bucks have been applied. Valid on in-store purchases only. One discount per person. Offer not valid on previous purchases or with other discounts. This offer's terms and conditions are subject to change without notice at any time. While supplies last; sorry no rain checks.
Wild Birds Unlimited Barred Owl Cam
Mama Barred Owl has set up residence in our owl nest box again this year. Jim Carpenter, President & CEO of Wild Birds Unlimited, has hosted a camera-equipped owl box in his backyard for many years.
Mama, in late February checked out the box and began to set up house. She laid the first egg on March 5th, the second one on March 7th and third one March 9th. If all goes well, we can expect the owlets to hatch in early-April and they'll fledge at four to five weeks of age.

Being Seasonally Savvy: Give Nesting Birds a Hand
Calcium is the most challenging mineral for birds because when they need it, they need large quantities and they need it right away. This is mainly during nesting time for egg laying ans well as chick development. The amount of calcium in their natural diet of seeds and insects is often inadequate and they must seek calcium-rich foods as a supplement. Ask us about the many bird foods we offer which include calcium to help your nesting birds.
Our source of calcium is from oyster grit or limestone dust. Both are finely ground and easily consumed by small songbirds.
Be a seasonally savvy friend to your birds by providing them with the extra calcium they require during nesting season.
How to Choose the Best Nest Box for Your Birds
How Cool is That! Nesting