515 Bryne Drive
Barrie, ON L4N 9P7
Behind Kenzington Burger Bar

705-726-7600
Open Today Until 6:00 pm
| | |
| --- | --- |
| Monday | 10:00 am - 6:00 pm |
| Tuesday | 10:00 am - 6:00 pm |
| Wednesday | 10:00 am - 6:00 pm |
| Thursday | 10:00 am - 7:00 pm |
| Friday | 10:00 am - 6:00 pm |
| Saturday | 10:00 am - 5:00 pm |
| Sunday | 11:00 am - 4:00 pm |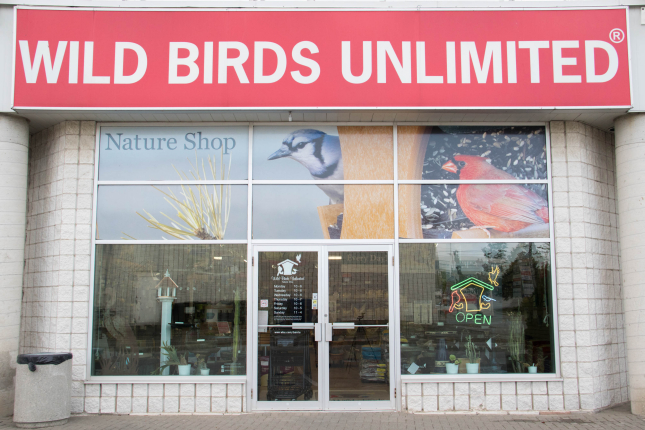 Kristen Martyn and Cameron Hogarth Franchise Store Owners
View Our Store Site
Connect With Us






Current Sale: January 19, 2018 - January 31, 2018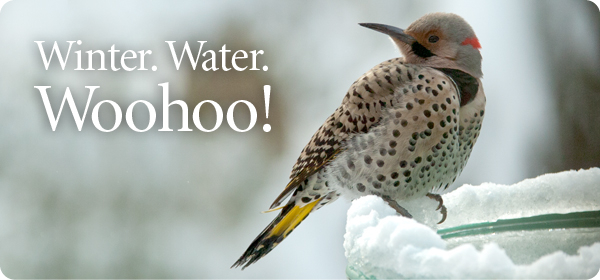 20% OFF All Bird Baths & Bird Bath Heaters*
Birds need a reliable source for water - even in the winter. You can help them by providing an open source of water. Bird baths can provide a water source and should be heated to help prevent the whole bath from freezing. In areas where the weather can turn cold and possibly freeze the water in bird baths, a heater or heated birdbath can keep an area open in your bird bath.
See our main page for full details.

Being Seasonally Savvy: You Can Help Birds Survive
It's really hard to think of wild birds as being loyal friends.
After all, they are truly one of the freest creatures on the planet, able to fly anywhere at any time with nothing to bind them to any single location.
But birds, like humans, are creatures of habit and bird banding studies have shown that many of our winter birds, such as Juncos and native sparrows, utilize the same wintering location year after year.
With a potential lifespan of over 10 years, it is likely that the Junco gleaning millet off of the ground below one of your feeders has spent many previous winters as your loyal backyard guest. And recent research shows that is only half the story!
Stop by our store or visit our main page for more expert advice and quality products that will help your birds to stay true blue and warm, too this winter.
Get our VIP Text Message for Great Flash Deals!
Sign up below or text WILDBIRDS to 76000 to recieve our VIP Text Messages. Get up to date info and exclusive flash sale offers sent to your phone. Join today to receive $5 off your next purchase (some exclusions apply).
Summary Terms & Conditions: Our mobile text messages are intended for subscribers over the age of 13 and are delivered via Canada short code 76000 and 76000. You may receive up to 4 message(s) per month for text alerts. Message and data rates may apply. Your phone number will not be sold. This service is available to persons with text-capable phones subscribing to carriers including SaskTel, FIDO Microcell, NorthernTel Mobility, MTS Communication, Telebec, Aliant Mobility, Telus, Virgin Mobile Canada, Bell Mobility, and Rogers. For help, text HELP to 76000, email wbubarrie@gmail.com, or call +1 7057267600. You may stop your mobile subscription at any time by text messaging STOP to short code 76000.
---