Meet Our Team- Leanne
Store Manager
Certified Bird Feeding Specialist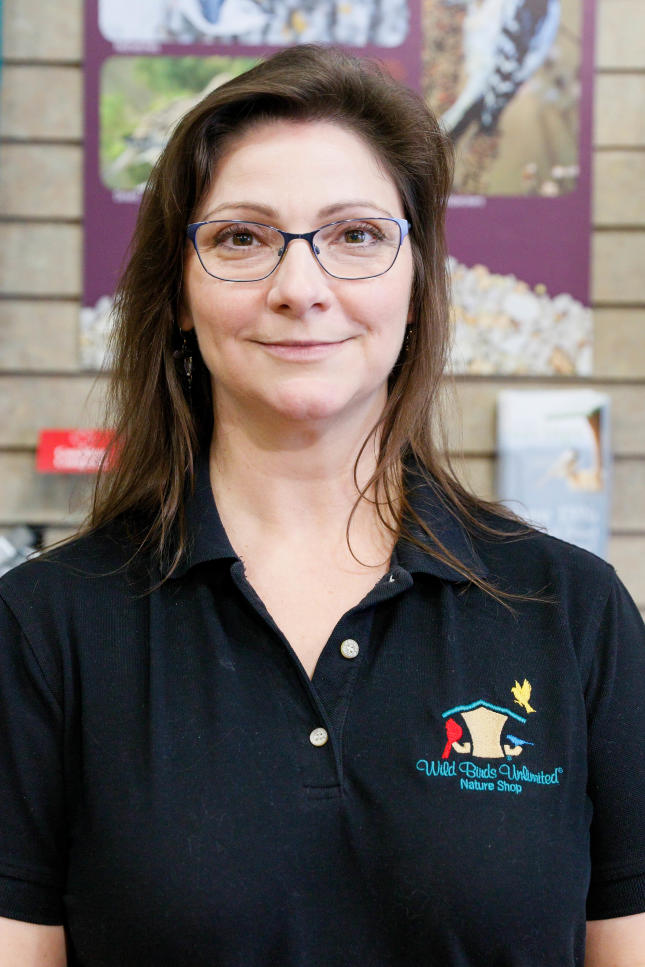 As a young girl, Leanne was always fascinated by the birds that would visit the bird feeders at the family cottage on Lake Couchiching. Finding abundant woodpecker holes in the cedar trees, seeing the massive flocks of Evening Grosbeaks, hearing the boisterous Blue Jays, and watching the funny little chickadees all set her on the path to be a bird lover.
Moving into her first home, Leanne immediately put up several bird feeders, and a birdbath with dripper to attract the birds. From that moment on…she was obsessed with attracting birds to her yard and making them part of her 'extended family.' She looked forward to the daily visits that brought such beauty and joy into her world. It was at this time that Leanne discovered the excitement of capturing a visual record of the birds she saw, using photography.
Having spent all her adult life in the hospitality industry where customer service was always the most important aspect of her job, Leanne felt that joining the WBU Barrie team was the perfect way to marry her love of birds, and love of customer service together in an environment that encouraged learning, sharing her passion for the birds, and superior quality products. The ultimate dream job! The rest, as they say, is history…all because a sign reading Wild Bird Unlimited beckoned her in from the street to browse around a peaceful store, where she felt right at home and wanted to stay. 😊
Feeling strongly that she needs to really 'know' the products in order to suggest them to the customers, Leanne sports anywhere from 17 – 20 feeders with a variety of different food choices in her yard. Much to her chagrin, her husband hopes that WBU will not introduce any new bird feeders that Leanne will feel the need to 'research', for fear that there will be no room left in the yard for himself and the two kids! 😉
Although she loves bird outings such as, trips to Point Pelee, Snowy Owl searches, and local bird hikes, they could never replace the delight she feels when interacting with her backyard feathered friends.
Favourite Feeder Bird: Totally not fair! Can't pick just one, or even three for that matter. All year long birds: Downy Woodpeckers, Black-capped Chickadees, Northern Cardinals, Nuthatches, and Blue Jays. Migratory Birds: Baltimore Oriole and Rose-breasted Grosbeaks.
Favourite WBU Barrie Food: Live Mealworms, Safflower Seed Cylinder, No-Mess CD seed, Hot Pepper Bark Butter, Sunfire Chips. When you have 17 feeders out at a time…it's pretty hard to choose just one of our fantastic foods!
Favourite Feeder: Dinner Bell, 3 in One Combo Feeder, and Spiral Treat Tray
Favourite Bird Experience: Keeping it close to home…has to be having 'Baby Downy Woodpecker' hop up my leg, while 'Papa Downy Woodpecker' was eating live mealworms from my hand, and then in turn feeding them to the baby woodpecker clinging to my leg. What an incredible feeling!
Coming home from a business trip to find 19 Baltimore Orioles (parents and babies) all vying for a place at the feeders to feed on live Mealworms and BirdBerry Jelly. What a colourful sight!
Bird Dream come true: To have a Pileated Woodpecker frequent her yard.