Connect With Us




---


---
In-Store Promo: January 11 - 20, 2019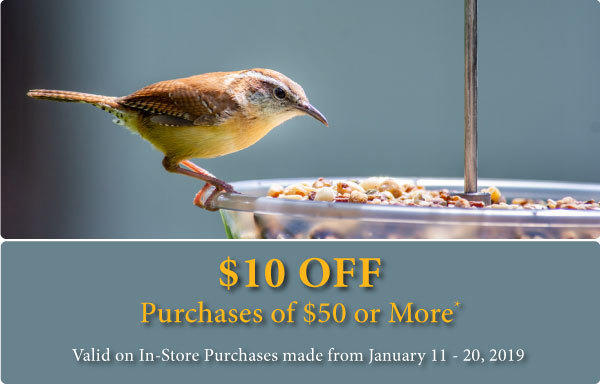 SAVE $10 on Purchases of $50 or More*
Ever wonder what it takes for wild birds to survive the winter season? They can't just turn up the thermostat or throw on an extra blanket! And even when temperatures are milder, it takes a lot of energy to make it through the longer hours of darkness. You can help by offering Winter SuperBlend™ available only at Wild Birds Unlimited. It provides a super-boost of energy and fat essential for winter survival.
*Valid on in-store purchases only. Not valid on orders placed via myWBU online, including store pickup. One discount per person. Offer not valid on previous purchases, with other discounts, gift cards, optics, jewellery, artwork, Dickey Bee Honey Products, Squirrel Buster Squirrel Proof Bird Feeder and Brome Bird Care Products, DSC memberships, special orders or sale items. Offer terms and conditions are subject to change without notice at any time. While supplies last; sorry no rain checks. Valid January 11, 2019 through January 20, 2019 at WBU Barrie.
---
How to Help Birds Survive Cold Weather
Typically, your feeders serve as a supplemental food source for birds. In contrast, during periods of extreme cold and severe winter weather, your birds may switch to utilizing your feeders as a critical source of food that enables them to survive from day to day. So make sure your foods are worth their weight with quality high-calorie, fatty foods for the birds.
You can play a vital role, as feeding the birds becomes critical when extremely cold conditions occur. At these times, a reliable supply of energy-heavy food can mean the difference between life and death for a bird. To stay warm, birds will expend energy very quickly, some losing up to 10% of their body weight on extremely cold nights. Food is the most essential element, providing birds with the energy, stamina and nutrition they need. An ample supply of high-calorie foods such as suet, Bark Butter, sunflower, Nyjer and more is crucial to a bird's survival.
So in order to meet your birds' needs, it is important to have at least one foundational feeder that dependably provides food every day and does not have to be filled very often. Studies have demonstrated that a constant, and reliable source of supplemental food helps to improve the overall health and body condition of wild birds.
Help your birds know your food is worth the weight by locating your foundational feeder in a sheltered location out of the wind and keep it full of the high-calorie, fatty foods that provide birds the crucial nutrition they need to survive and thrive even during the coldest times of the year.
Stop by our store for more expert advice and quality foods that are worth the weight to help your birds thrive this winter.
---
Are you "for the birds"? We want you!

We are seeking a Sales Associate with great retail and service skills. Working at your locally owned Wild Birds Unlimited Barrie store is an opportunity to support and educate our friendly customers about birds and nature. The difference between Wild Birds Unlimited Barrie and other retailers goes far beyond what we sell. It's who we are. Enthusiasm, professionalism, informed expert advice and superior customer service are the hallmarks of our staff.
For more information please visit the Employment Opportunity section of our website.
---

Introducing myWBU Barrie- Online Ordering
Shop us online to have fresh bird seed delivered right to your door, or order ahead for free, quick in-store pick-up. Shipping is $12.99 per order or FREE when you spend $99 or more (additional fees may apply to some postal codes). Free gift with first order placed online!
Note: To access your DSC Membership pricing, you MUST use the email address we have on file to create a profile and login online. If your email address has changed or if you want to reconfirm you email address on file please give us a call at 705-726-7600.
---