---

Hummingbirds, Orioles, Grosbeaks and Other Spring Migrants are Back in Ontario!
Make sure you're ready for the return of these incredible birds with their favourite feeders and food.
Baltimore Orioles love our BirdBerry Jelly and live mealworms. BirdBerry Jelly is made with two of their favourite foods blackberries and grapes and has no additional sugar, high fructose corn syrup or other additives. Best of all orioles go crazy for it. When selecting an oriole feeder choose one with a dish where live mealworms and BirdBerry Jelly can be offered. This will ensure they come all spring and summer long, as they typically stop eating nectar and oranges by mid-June.
Need some advice on which feeder to offer your hummingbirds, orioles or other spring arrivals. We are happy to help make expert recommendations! Give us a call or stop in for the best bird feeding tips and advice from our Certified Bird Feeding Specialists.
---
Update April 8, 2021: Open for Curbside Pickup and Shipping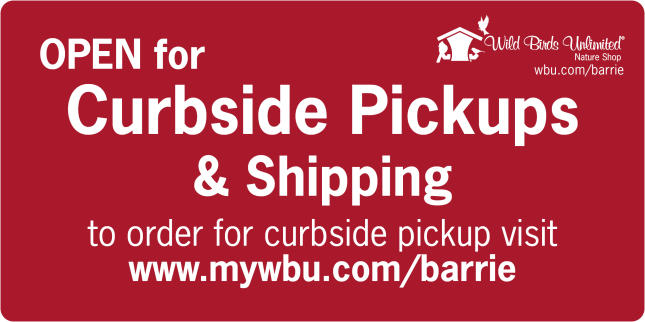 Our showroom is currently CLOSED as per the Government of Ontario's lockdown protocols. At this time we ask that you kindly place orders online via myWBU.com/barrie for curbside pickup or shipping. If you want a more personalized shopping experience or have questions we would be happy to set up a time to provide you with a personalized shopping experience via Facetime or over the phone. Click here or on the above banner to read more details on our COVID 19 in store shopping policies and to learn about how we are ensuring a safe shopping experience.
Wild Birds Unlimited Barrie is you're local Canadian source of the best wild bird feed wild bird food wild bird seed wild bird houses wild bird feeders wild bird nesting supplies wild bird baths wild bird feed wild ird food wild bird seed wild bird houses wild bird feeders wild bird nesting supplies wild bird baths best wild bird feed wild bird food wild bird seed wild bird houses wild bird feeders wild bird nesting supplies wild bird baths wild bird feed wild bird food wild bird seed wild bird houses wild bird feeders wild bird nesting supplies wild bird baths wild bird water wild bird water oriole feeder oriole feeder hummingbird feeder hummingbird feeder live mealworms live mealworms