---
DSC Members - October 1 - 31, 2020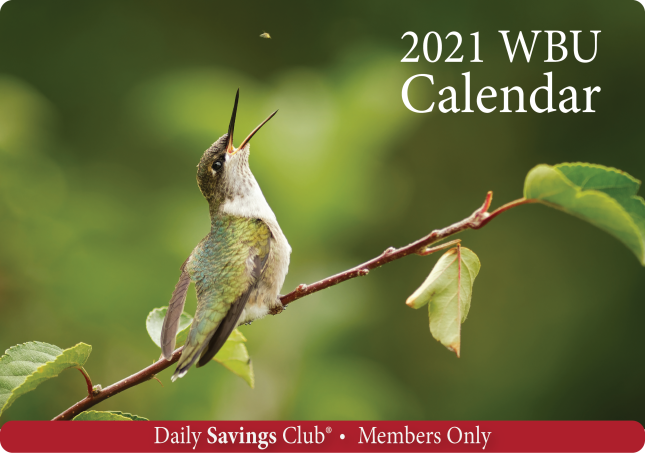 2021 WBU Calendars are here!
Pickup your FREE 2021 WBU Calendar* (a $4.99 value) on your next visit In-Store. Ordering Online? Include 2021 Calendar in Order Notes to receive yours with your order.
*2021 Calendar: FREE for DSC members only. If ordering online, must include 2021 Calendar in Order Notes to receive your free calendar with your purchase. No purchase necessary. One free Wild Birds Unlimited Calendar per DSC membership. Calendars may be purchased at a price of $4.99 each after October 31, 2020 for non-members or for members wishing for additional copies. While supplies last. No rainchecks or substitutions. Offer valid October 1, 2020 through October 31, 2020 at WBU Barrie (mywbu.com/barrie) or WBU Newmarket (mywbu.com/newmarket).


---
CURRENT COVID UPDATE
To Our Wonderful Customers,
To say that the last few months have been unusual would be an understatement. Throughout this time, we have been happy to be able to serve you in a limited capacity and sincerely appreciate your support of our locally-owned small business. We're happy to now share some great news...
Our showroom is open once again offering a safe and enjoyable shopping experience. We're also taking these steps to ensure a safe shopping environment:
Store Cleaning Policies: Prior to reopening, our store has been deep-cleaned to ensure a safe reopening. During daily operations, our staff will use disinfectants to clean high-touch areas such as door handles, shopping cart handles, payment terminals and near the checkout counter every hour. A more thorough cleaning will occur each night.

Social Distancing: We will observe social distancing policies by limiting the number of people in the store at any one time to a maximum of 2. We also ask that shoppers maintain a distance of at least 6' (or 4 ravens) from others while in the store.

Use of PPE: Our staff will use personal protective equipment including masks and/or shields and regular hand-washing. All shoppers will be required to wear a mask or shield and to use the provided hand-sanitizer upon entering the store. If you are unable or uncomfortable wearing a mask, we're happy to assist you curbside, by email or over the phone.
Touchless Transactions: At this time, we will only be accepting the following methods of payment until further notice: Debit (Interac), Visa and MasterCard. Using tap whenever possible is appreciated to limit contact as much as possible.
Returns/Exchanges: We are now able to safely process any returns or exchanges of items purchased from March 2020 - present (excluding Final /sale items such as clearance items and jewellery). Purchases made once the store has reopened are subject to our regular 30-day Return Policy.
BirdBucks/Coupons: If you had any coupons and/or paper BirdBucks that expired while our store-front was closed (March - June 2020), we are happy to accept them again in store! Please bring those into the store with you and advise us at check-out.
To learn about our temporary procedures for shopping in-stores please watch the video below:
You Can Also Continue To Shop with Us Online MyWBU.com/Barrie for Curbside Pickup or Shipping

Haven't used MyWBU before?
Check out this video to see just how easy it is!
IMPORTANT: The most common error we run into with our online ordering platform is a different email address given to us in store than registered with online AND/OR no email address on your in-store account. The email address on your profile in-store connects with you online account and makes it possible for you to get your members discount. It is extremely important these match.
If your email has changed, or you're not sure which email we have (if any),
please contact us at [email protected] PRIOR to registering online.

There Are 2 Ways to Order from us Via MyWBU
1. Non-Contact Curbside Pickup
Login to your MyWBU.com/Barrie Account
Add items into your cart and proceed to checkout
Select "In-store pickup" and proceed to payment
When picking up, if there is not already 2 people inside the store, please come on in and let us know you are here for pickup. If you are having to wait outside, our staff will check when letting the next person into the store if anyone is waiting on pickup.
If you prefer to not come into the store, please give us a call to let us know you've arrived and we will get that outside for you as soon as possible. Please note, if we have customers inside the store, we may not be able to answer the phone right away, we appreciate your patience.
2. Online Orders for Shipping
Login to your MyWBU.com/Barrie Account
Add items into your cart and proceed to checkout
Orders $99 or more qualify for FREE shipping to FedEx zones 0 and 1
Shipping is $14.99 for orders less than $99
The majority of orders are shipped via Canada Post, however we may personally deliver your order (this decision is made at our discretion)- please provide a shipping address that can receive deliveries up to 8 pm as well as a phone number so we can call to alert you should we deliver your order
Orders shipped via Canada Post are sent Expedited Parcel Service and may take 7 to 10 business days to arrive (Canada Post currently is not guaranteeing any delivery service times due to the Covid-19 situation)
If you find something on our website that is not available for ordering on MyWBU (such as our household and gift items) and wish to have it added to your online order, please include the item(s) in the order notes section and a team member will give you a call to process payment for the additional items separately.

Due to a high number of calls, and having only one person in store at a time, we are asking you to email ([email protected]) rather than call if you need help placing an order online or if you want to add something to your order not available online (i.e. mealworms). Please include your phone number so one of our team members can call you back with your answer as soon as possible. We are doing our best to respond as quickly as possible, but kindly understand we only have one person at a time in store and a large number of incoming calls.

As a result of the store sales floor closing, we have also temporarily suspended our in-store presentations. Instead, we will be offering our presentations online. Please see our events page for the most up to date information on future presentations.