Connect With Us






Current Sale: January 19, 2018 through January 31, 2018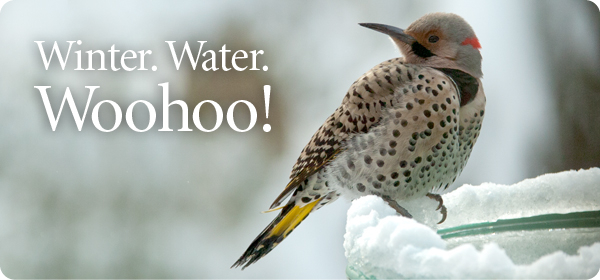 20% OFF All Bird Baths & Bird Bath Heaters*
Birds need a reliable source for water - even in the winter. You can help them by providing an open source of water. Bird baths can provide a water source and should be heated to help prevent the whole bath from freezing. In areas where the weather can turn cold and possibly freeze the water in bird baths, a heater or heated birdbath can keep an area open in your bird bath.
*For DSC members only. Limit one coupon per visit. One discount per membership. Valid on in-store purchases only. One discount per purchase. Offer not valid with other discounts, or on previous purchases, special orders and sale items. Offer valid only on heated bird baths (item #1122 and #1518), bird bath heaters (item #W10308) and de-icers (item #1517). Offer valid while supplies last, sorry no rain checks. This offers terms and conditions are subject to change without notice at any time. Offer valid January 19, 2018 through January 31, 2018 at WBU Barrie.

Being Seasonally Savvy: You Can Help Birds Survive
It's really hard to think of wild birds as being loyal friends.
After all, they are truly one of the freest creatures on the planet, able to fly anywhere at any time with nothing to bind them to any single location.
But birds, like humans, are creatures of habit and bird banding studies have shown that many of our winter birds, such as Juncos and native sparrows, utilize the same wintering location year after year.
With a potential lifespan of over 10 years, it is likely that the Junco gleaning millet off of the ground below one of your feeders has spent many previous winters as your loyal backyard guest. And recent research shows that is only half the story!
These birds are not only loyal to a specific location, but also to a single feeder! The study showed that the only time they abandoned their favorite feeder was during periods of cold weather when the feeder was in a location too exposed to the wind.
So help your birds stay loyal and warm by locating your feeders in a sheltered location out of the wind. The east or southeast side of a house or near a row of trees or evergreens is ideal.
By providing a properly sheltered foundational feeder, one that you keep filled at all times, you can help your birds with the crucial nutrition they need to survive the coldest months of the year. Recent research has shown that a consistent and reliable source of food helps birds to build body fat reserves, reduce their physiological stress and maintain a healthy body condition.
You can play a vital role, as feeding the birds becomes critical when extremely cold conditions occur. At these times, a reliable supply of energy-heavy food can mean the difference between life and death for a bird. To stay warm, birds will expend energy very quickly, some losing up to 10% of their body weight on extremely cold nights. Food is the most essential element, providing birds with the energy, stamina and nutrition they need. An ample supply of high-calorie foods such as suet, Bark Butter, sunflower, Nyjer and more is crucial to a bird's survival.
Suet as well as Jim's Birdacious Bark Butter® and Bark Butter Bits are full of essential fat and protein helping birds, such as woodpeckers, chickadees, nuthatches, titmice, wrens and others, maintain their high metabolic rate.
Nyjer and Finch Blend are high in fat and protein, and they are a favorite of goldfinches, Pine Siskin and Purple and House Finches.
Our Deluxe Blend is loaded with sunflower and safflower seeds and millet. Millet is high in carbohydrates and is especially good for attracting ground-feeding birds, such as native sparrows, juncos, towhees, quail and doves.
Bird food cylinders are a win-win for you and your birds. Cylinders, like No-Mess and Nutty for Nuts, are long-lasting allowing you fewer trips to fill the feeder. They are packed with high-calorie peanut, tree nut and sunflower energy to help the birds stay warmer. There are no shells, providing a quick energy snack for birds and no mess for you.
Stop by our store for more expert advice and quality products that will help your birds to stay true blue and warm, too this winter.