Home Décor
Please note that all of information provided on our website about our products is meant to be informative only. For more information regarding prices and shipping (within Canada only) please visit our store in Barrie (515 Bryne Drive, Barrie, ON), phone us (705) 726-7600 or send us an email [email protected].
It's easy to bring birds and nature into your home with our beautiful collection of unique home décor items. Our home décor items make a wonderful addition to any home and fantastic gifts.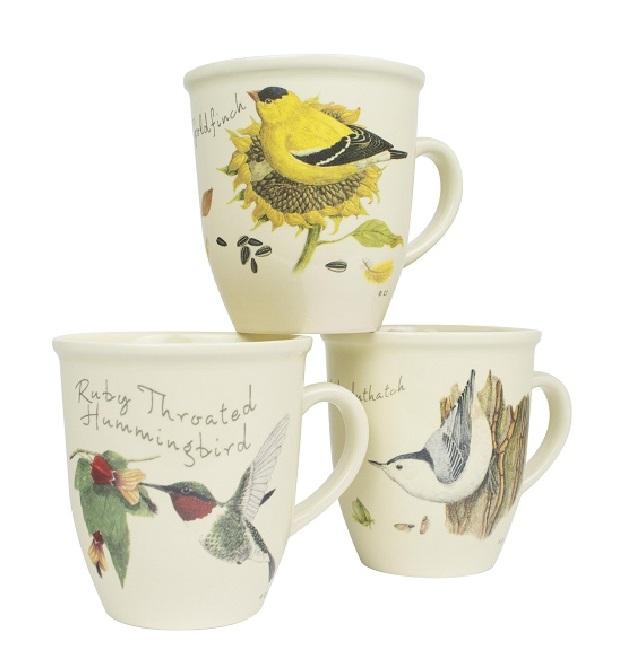 CJ Wildlife Mugs: For those of you who collect our High Quality Ceramic mugs or want to start your own collection, there are many in stock here for you! There are so many beautiful birds and each of the most common backyard birds comes in a stunning mug to add to or start your collection. These mugs are made of 100% ceramic, are dishwasher and microwave safe. We carry 13 beautiful designs include American Goldfinch, Black-capped Chickadee, Blue Jay, California Quail, House Finch, American Robin, Ruby-throated Hummingbird, Anna's Hummingbird, Downy Woodpecker, Eastern Bluebird, Red-bellied Woodpecker, Red-breasted Nuthatch, and White-breasted Nuthatch. Watch your back yard friends, and enjoy your favorite beverage in your favorite bird mug!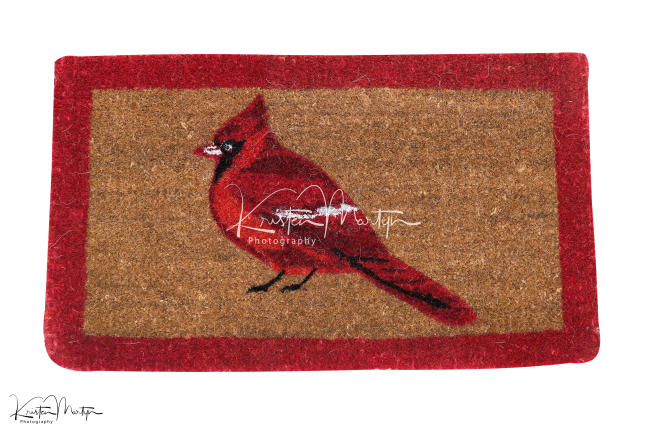 Doormats: Crafted out of durable coir fibre and naturally coloured to withstand the worst of Canadian weather. Perfect for indoor or outdoor use. To clean, simply vacuum or hose down. Patterns include: Monarch Butterfly, Blue Jay, Cardinal and Bees.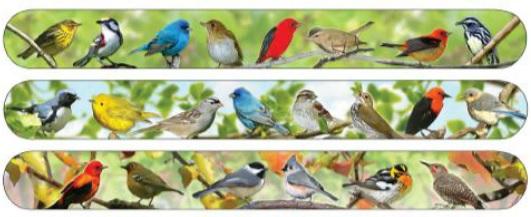 Professional Full Colour Nail Files: Professional Colour Nail Files are high quality and available in beautiful bird and nature themed designs. Professional Colour Nail Files have a cushioned surface and are double-sided. One side has fine grit and the other medium grit. They are great for natural or acrylic nails and are made in the US. Each Professional Colour Nail File is 7" long.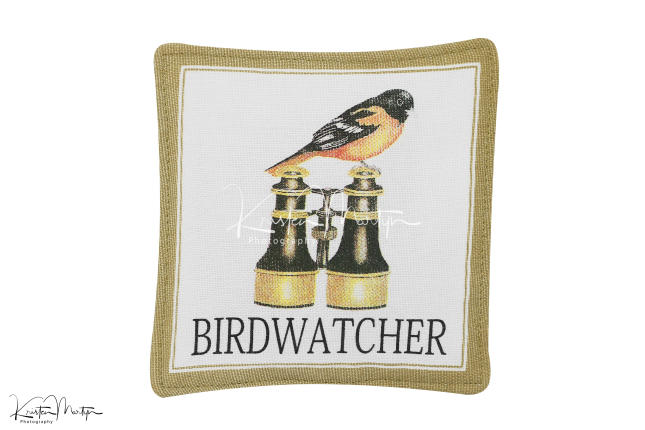 Spiced Mug Mats: Filled with real spices, the decorative mug mats are hand stitched with the highest of quality material featuring Alice Backman's original water color designs of nature and botanical themes. Place a warm tea or coffee mug on the mat to enhance the wonderful aroma. They protect table tops and are perfect for the home or office. They are a hands down great product all on their own. Machine washable and 100% cotton. Available seasonally in the months leading up to Christmas.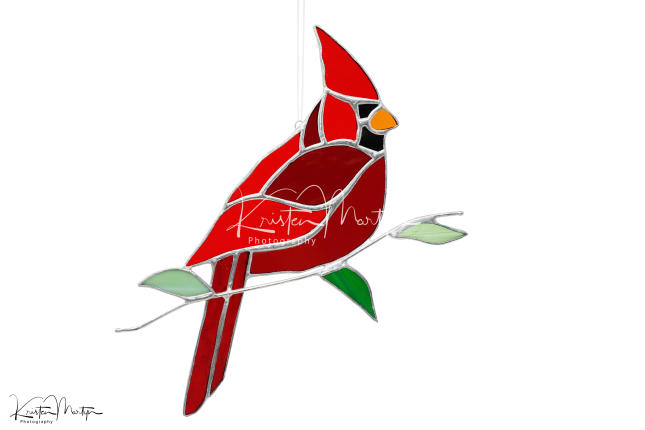 Stained Glass Birds: Proudly made in Ontario by a local artist these bird inspired stained glass pieces are truly unique. Each piece is carefully handcrafted with a design of a local Ontario birds perched on delicate copper wire and decorates with leaves and/or berries. A number of different birds are featured in the design including Northern Cardinals, Black-capped Chickadees, Pileated Woodpeckers and Ruby-throated Hummingbirds. These delicate pieces will make any window sparkle and with colour and whimsy. Our Stained Glass Birds are available during select times of the year. If you're interested in a particular bird or want to check availability please give us a call. As they are each hand made the birds themselves vary in size. The smaller birds are about 4" long and 1.5" wide; with the branches and beads, pieces are approximately about 8.5" long and 3" wide.

Made in Canada

Dimensions: Approximately 7-8" Long x 3" Wide.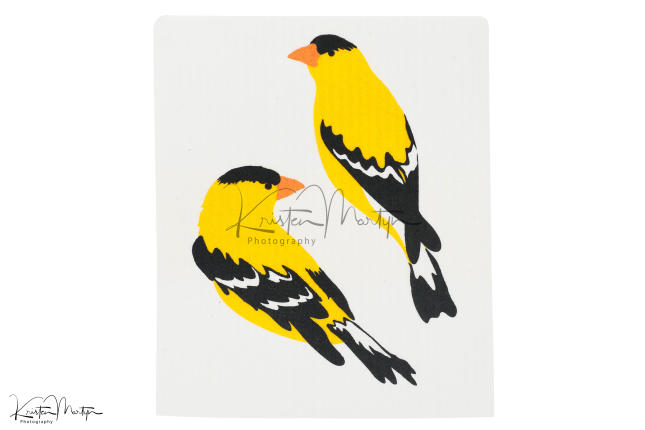 Swedish Dishcloths - Made from cotton and plant-based cellulose fibres, these 100% natural and compostable cloths are an established must-have in Scandinavia. They offer a sustainable alternative to sponges, dishcloths and paper towels and become soft and pliable when wet for easy cleanup. Whimsical and nature themed images make these a great addition to any kitchen. 70% cellulose 30% cotton. Made in Sweden.
Dimensions: 6.5" wide x 8" tall.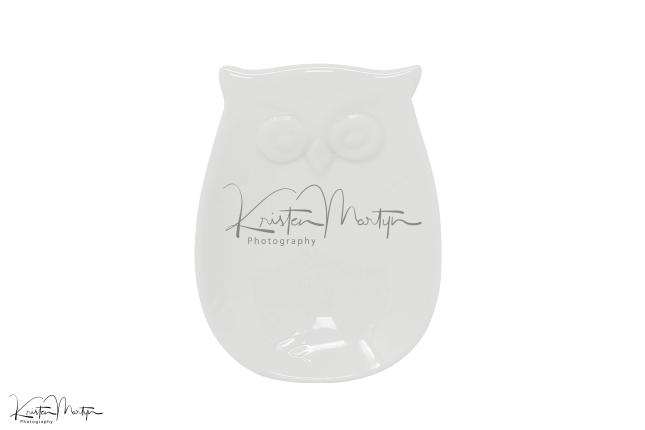 Tea Bag Plate: Add some whimsy to your kitchen with our Tea Bag Plates. Available in two of cute animal design, an owl or cat, these plates measure 4" (10 cm) in length making it the perfect size dish for used tea bags. Our Tea Bag Plates are made of bone china and are food, dishwasher and microwave safe.
Dimensions: 4" L x 2.75" W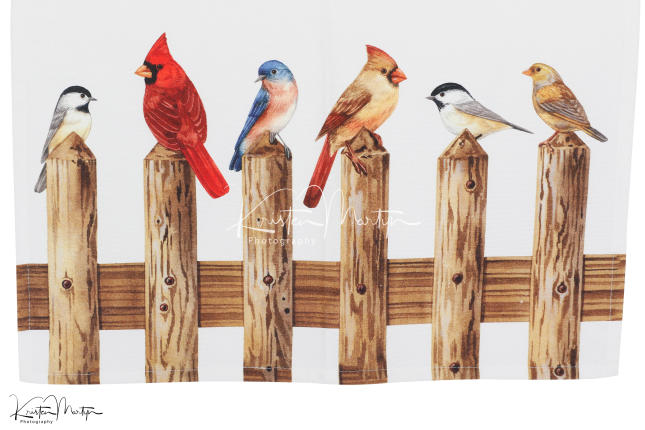 Tea Towels: Add life and character to your kitchen with our collection of Tea Towels featuring fun and colourful nature inspired designs, many with birds and other wildlife. A perfect combination of form and function, these towels will make washing up less of a chore. Each towel is a generous size providing a large drying surface. Our Tea Towels can be used as decorative accents or as functional dish towels. Towels are made from 100% cotton and are machine washable. 100% cotton. Made in India.
Dimensions: 18" wide x 28" long.