For the Garden
Please note that all of information provided on our website about our products is meant to be informative only. For more information regarding prices and shipping (within Canada only) please visit our store in Barrie (515 Bryne Drive, Barrie, ON), phone us (705) 726-7600 or send us an email [email protected].
In addition to backyard bird products we also offer a variety of beautiful products for any outdoor space.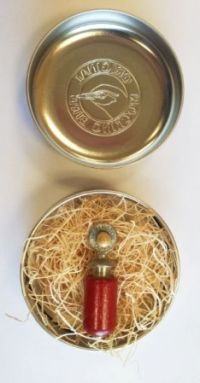 Audubon Bird Call: The Audubon Bird Call is a great gift for the hard to buy for birder on your list. Each bird call is handmade and individually tuned. The bird call's sound is produced by twisting the cast zinc plug against the wooden cylinder. Originally used by hunters in Europe, the bird call's sound attracts birds by convincing them that there are other birds in the area. Use each time you place out a specialty food, such as mealworms or whole peanuts, and see how fast your birds learn their new 'dinner bell'. Comes with a free attractive tin and rosin tube for tuning.
Total length approximately 2.5" x 0.75" wide.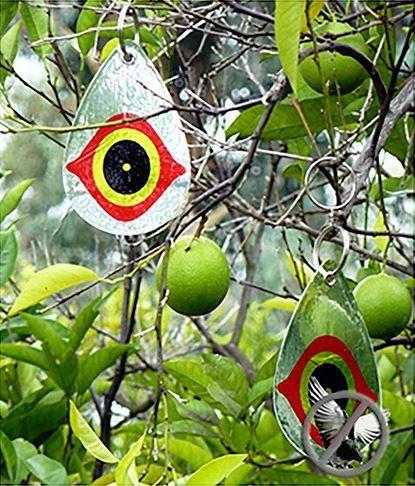 Bird-B-Gone Diverter: Congregating birds becoming an issue? Woodpeckers pecking a certain part of your home? Bird Diverters are teardrop-shaped hanging visual bird deterrents that feature a predator eye on a reflective surface. A stainless-steel swivel attachment allows the Diverters to rotate 360° for added effectiveness. Shiny, reflective surfaces act almost as an optical illusion to birds. When they see the "mock" predator eye and shiny reflective surface of the Diverter, they will be frightened, confused and want to avoid the area. Ideal for use in trees, patios, sides of homes, boats, from eaves, gazebos, fruit trees, and balcony overhangs.
Comes in a pack of 5. Each diverter is are made of UV treated polycarbonate with mylar decals. Can be hung using twine, string or rope. It is recommended the diverters be hung between 2 and 3 feet apart at varying heights for maximum coverage.
Dimensions: 7.5" long x 3.5" wide (including hanger)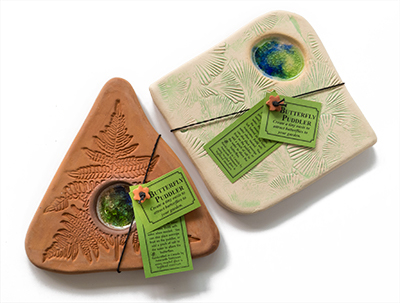 Butterfly Puddlers - Encourage pollinators to visit and make a home for themselves in your garden. Created with natural materials such natural stoneware and recycled glass with non-toxic glazes, these Butterfly Puddlers are as natural as their surroundings. Place the Puddler within your view then watch for the creatures who will visit. Made of natural stoneware and recycled glass, no toxic resins to break down and destroy our environment. Fill the well with sand and water. Butterflies will "drink" the minerals left when the water evaporates. Available in various finishes. Handcrafted in Canada.

Dimensions: Approximately 8.5" x 8.5"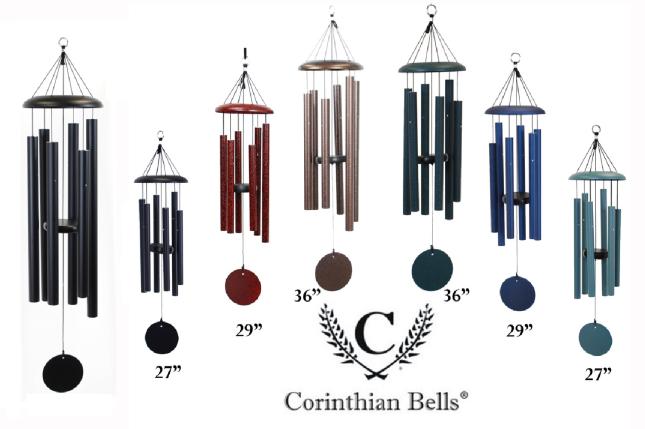 Corinthian Bells Chimes: Corinthian Bells Chimes are made in the USA with powder coated aluminum, and come with a 5 year warranty against defects in craftsmanship. These are the best-selling chimes on the market and combine exceptional design with incredible tones and resonance. They are musically designed to produce soft, rich tones that blend together beautifully. With a light breeze, these chimes will sing out their soft notes, providing a peaceful, musical background to your day. Each set of chimes is hand tuned to a music scale. Corinthian Bells Chimes come in a variety of sizes and colours. Corinthian Bells make a beautiful gift or addition to your backyard atmosphere. Chimes come in any of the following colours and lengths:
Chime Size: 27", 29", 36", 44", 50", 53", 55", 65", 74" and 78"
Colours: Blue, green, copper, black and burgundy.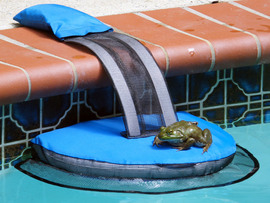 FrogLog® Critter Escape Ramp: The FrogLog® Critter Escape Log helps take the worry out of pool ownership. Now if critters such as frogs, chipmunks, and lizards fall into your pool, The FrogLog® Escape Ramp is there to help them escape. A creature that falls in will instinctively swim to the edge and circle the pool looking for a way out, coming across the FrogLog®. Simply place the floating platform into the water and the weighted fabric pouch onto the pool deck.Works with pool water levels that fluctuate between 3" and 10" below the deck. Will work with above ground pools however modification may be needed to secure if there is not a deck. A clamp works well to secure to the top plate. Made from Denier nylon non scratch surface and nylon mesh.
Dimensions: Float measures 14" x 11" plus the mesh skirt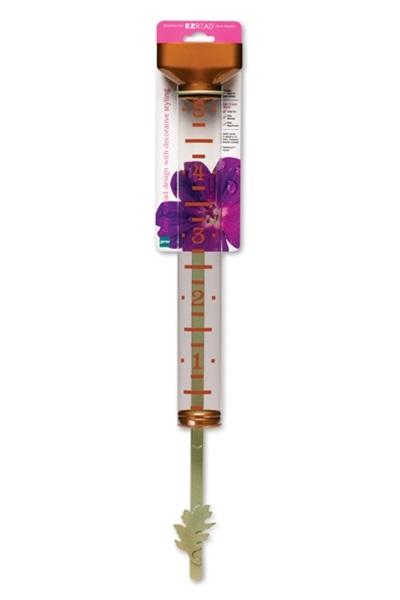 Decorative EZ Read Rain Gauge (Copper): The Decorative EZ Read Rain Gauges is great for gardens and can add colour to your flower or vegetable garden without a single plant in bloom. The Decorative EZ Read rain gauge is 13" tall and just like the EZ Read Rain Gauge, it can be read from a distance as well. It comes with a one piece stake for easy mounting in the ground. It also comes with mounting holes in the stake for easy fence or deck mounting. They also feature the DebrisGuard™ Funnel to prevent debris from entering, a patented self-sealing plug to prevent leakage, bright markings, a high visibility float, and water level magnification.

Weatherstick: The Canadian Weatherstick has been predicting weather for Canadian Pioneers for years. Now this unique and rustic weather foreteller is available for everyone to enjoy! Mount your weatherstick about 6' high on an outside wall of your house, garage, a fence or a door, where it will be exposed to weather. Stick will bend up to foretell fair feather and down for foul. Made in Canada.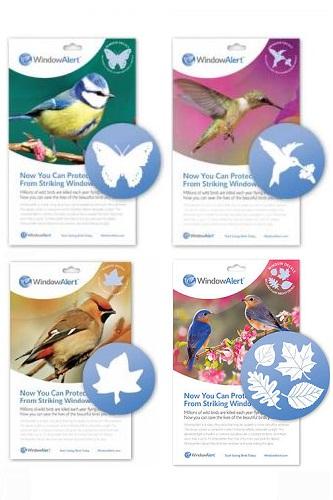 WindowAlert: Now you can protect wild birds from striking windows. WindowAlert is a low-tack decal that may be applied to home and office windows. The decals contain a component which brilliantly reflects ultraviolet sunlight. This ultraviolet light is invisible to humans, but glows like a stoplight for birds. Birds have vision that is up to 12 times better than that of humans. WindowAlert decals help birds see windows and avoid striking the glass. WindowAlerts come in a package of 4 decals. WBU Barrie carries three types of WindowAlert designs hummingbirds, butterflies, leaf medley and maple leafs.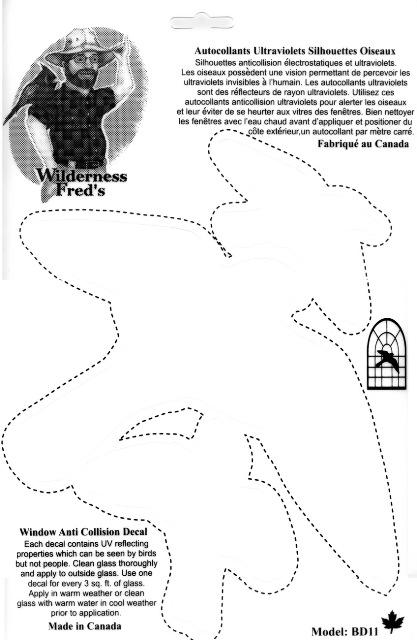 Window Anti-Collision Decal: Made in Canada, these decals have UV Reflecting properties which are invisible to humans, but glows like a stoplight for birds. Using one decal for every 3 sq. ft. of glass will help birds see windows and avoid striking the glass. Each package contains three bird silhouette shaped low-tack decals that may be applied to home and office windows.
Made in Canada.