Clothing and Accessories
Please note that all of information provided on our website about our products is meant to be informative only. For more information regarding prices and shipping (within Canada only) please visit our store in Barrie (515 Bryne Drive, Barrie, ON), phone us (705) 726-7600 or send us an email [email protected].
We have an excellent selection of beautiful clothing, jewelry and accessories. In fact customers love these products so much we have people returning time and time again for specific products. Our clothing, jewelry and accessories come in a wide variety of colours and styles.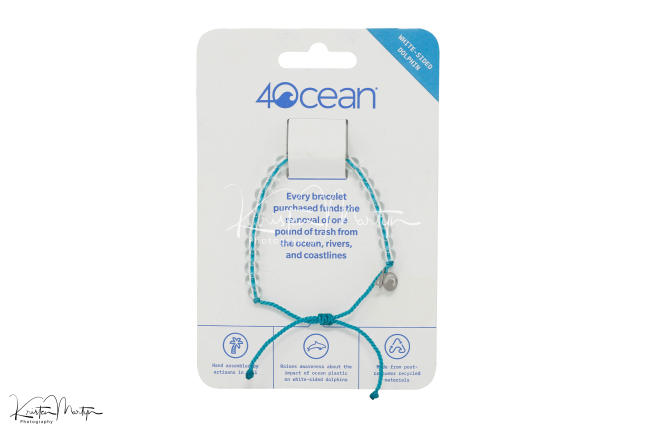 4ocean Bracelets: When you purchase a 4ocean Bracelet, we'll remove one pound of trash from the ocean and coastlines. This bracelet represents your support – choose from various colours symbolizing seabirds, sea turtles, polar bears, sharks, whales, coral reefs, the planet and more! Each bracelet removes one pound of trash from the ocean and coastlines. Made with recycled ocean plastic and glass recovered by 4ocean employees. Waterproof and adjustable from 2 to 5" in diameter. Stainless steel 4ocean charm.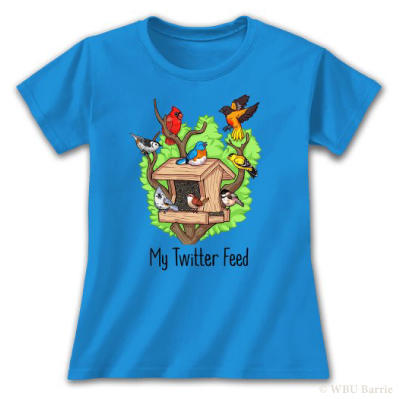 Bird Themed T-Shirts: Everyone on your shopping list will love our Bird and Nature Themed T-Shirts - assuming you can bring yourself to give them away! Made from pre-shrunk, 100% cotton, with double-needle stitched necklines and hems, and seamless collars, these shirts will bring years of enjoyment with a fit that never changes! Choose from various styles, including Twitter Feed, Crazy Bird Lady, Coffee Owls, and more! Sizes range from Small to Extra Large.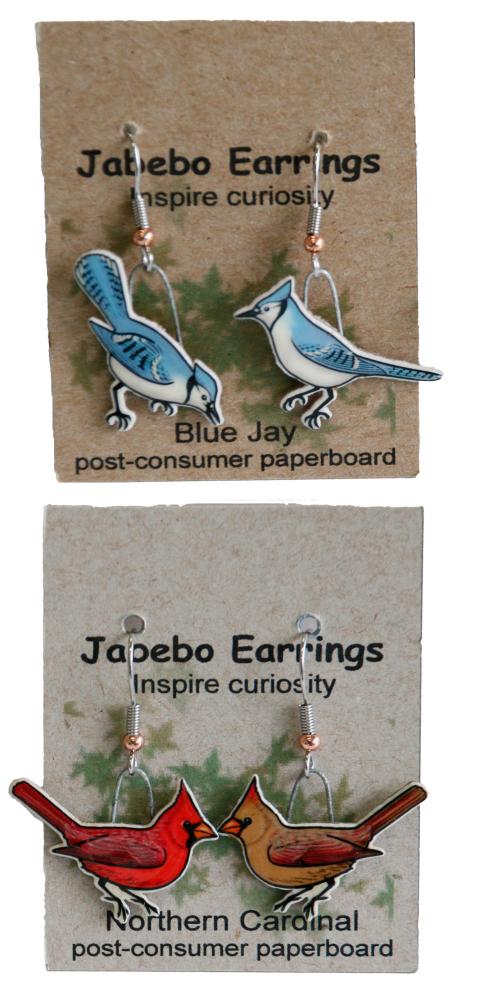 Jabebo Earrings: Jabebo Earrings are one of a kind and treasured by nature lovers. The earrings feature a variety designs including birds, wildlife, flora and science. The inspiration for Jabebo Earrings comes from visiting nature centers, wildlife refuges, parks, gardens, museums and all kinds of other interesting locations. All of the artwork is original and researched for accuracy. The lead artist is actually a Wildife Biologist by training. Education has been the primary motivator in creating the designs. The mismatched images and detail adds an intellectual layer to their appeal. Post-consumer cereal box cardboard is used to construct the earrings. Print and images from the cardboard packaging is visible on the reverse of the earrings. Two layers of cardboard are sandwiched together to provide a sturdy base for the color image applied on the front. Being made from paper, the earrings are light weight and comfortable to wear. Backings to the earrings are provided with each pair to keep them from slipping out are provided. Shellac is used to glue the layers of paper material together and provides the nice shiny top coat for the finished product. Shellac is a natural product and a renewable resource that will protect the earrings from brief and intermittent exposures to water. It also protects the colors from fading by acting as a natural filter from UV light.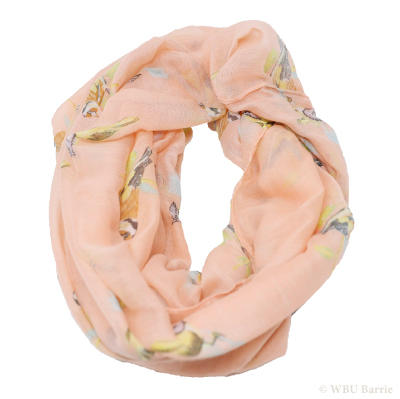 Nature Themed Scarves: Perfect anytime of the year, our Nature Themed Scarves are available in a variety of patterns and colours. Pair a Nature Themed Scarf with your favourite jack on a cool day or wear on its own as the perfect accessory.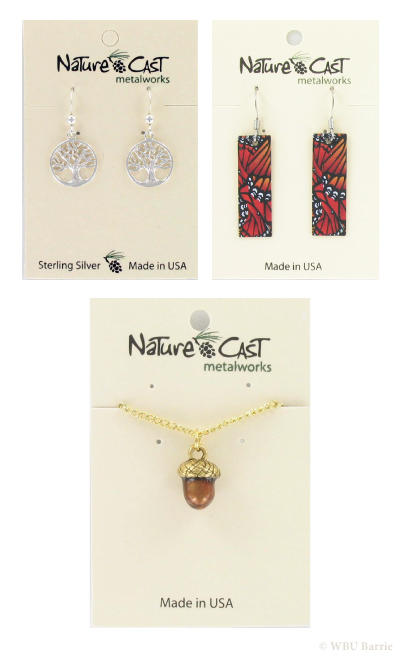 Nature's Cast Jewellery: Inspired by the creator's trips to nature, these hypo-allergenic sterling silver and mixed metal jewellery designs are sure to bring joy to any nature lover on your gift list. This collection contains earrings (including studs), and necklaces in both gold and silver tones. Many styles to choose from. All pendants come with an 18" chain. Made in the USA.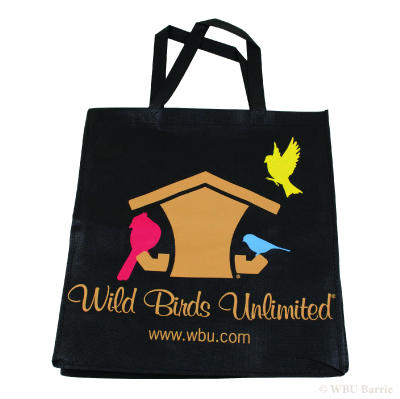 WBU Reusable Shopping Bag: Available in a large, convenient size, this 100% recyclable bag is made from non-woven polypropylene. Help save the environment in style by reducing the use of plastic, while promoting your favourite bird store! Great for every day use, the generous size will hold all your shopping or day to day items easily.
Large black bag: 17.5" W x 18" H X 7" D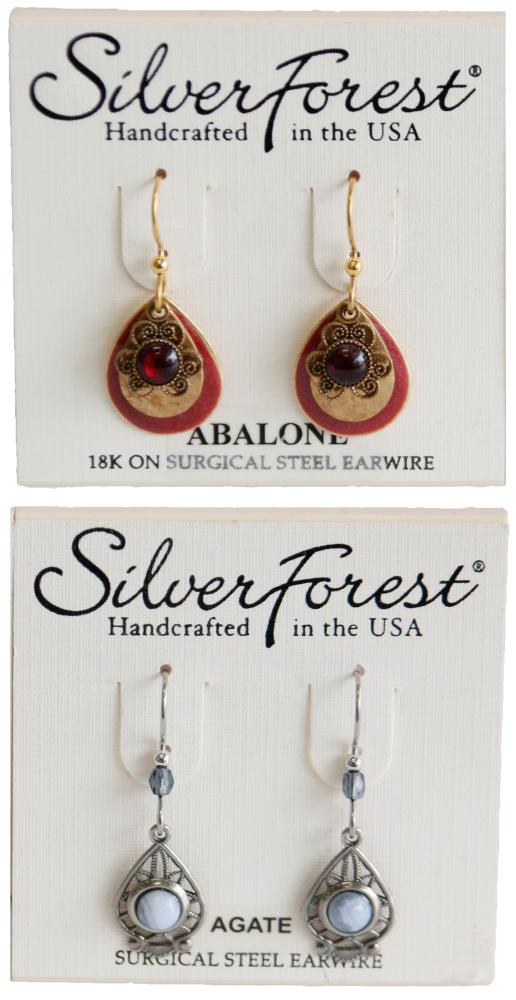 Silver Forest Earrings: The philosophy of Silver Forest of Vermont is to create wearable art that transcends fashion trends. Nature, the environment, ancient cultures, and a subtle sense of humor influence our designs. All jewelry is hand crafted in Bellows Falls, Vermont.
All ear wires are surgical steel that is plated with a minimum of 9 mils of gold. There is no nickel used in the plating process, so the ear wires are certified nickel-free. This is a significant benefit to our metal sensitive customers who can buy these earrings with confidence. All stones are genuine semi-precious, never plastic. Silver Forest also uses glass beads, natural materials, and genuine Austrian Crystal to accent all jewelry.
The gold tone finish is a tarnish resistant 18k gold finish over brass, the silver tone finish is a tarnish resistant rhodium over brass, and the copper finish is a rose gold over brass. Most of the metals in Silver Forest's jewelry consist of raw brass or copper elements. Each shape or disk is, cut and rolled out with textures, from a raw sheet of metal. They use 12 different textures and over 1000 shapes. All of the jewelry is soldered together, never glued. This creates a slight variation in every piece, which gives the ambiance of wearable art. Here at Wild Birds Unlimited Barrie, we have a wide variety of earrings for you to choose from to add to your everyday style.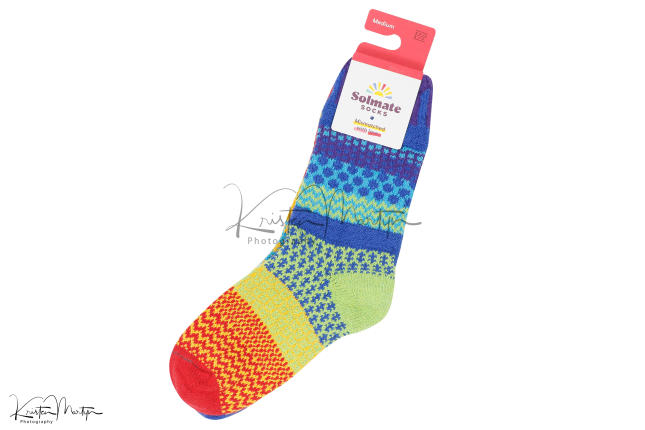 Solmate Socks: Life is too short for matching socks, especially when you can wear these fun and beautiful socks! Multi-patterned and colorful mismatched socks are a little something fun for your feet. Crafted with care in the USA from recycled cotton. By sourcing our cotton yarns from recycled materials Solmate Socks create an environmentally responsible cotton product by reducing the amount of virgin cotton that needs to be grown and at the same time helping to reduce landfill waste. Whether you wear them all day at work, save them for snuggling up on the couch at the end of the day or use them to help keep feet warm at night, a pair of Solmate Socks is perfect for everyone.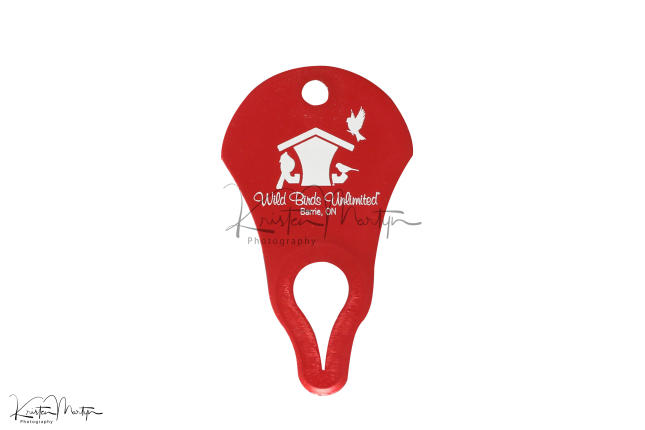 Tick-Key: The Original TickKey™ uses natural forward leverage to remove an entire tick – head and all – quickly and safely without touching or squishing even the toughest engorged ticks. Original TickKey™ is effective in the safe removal of all sizes and types of ticks from people and animals.