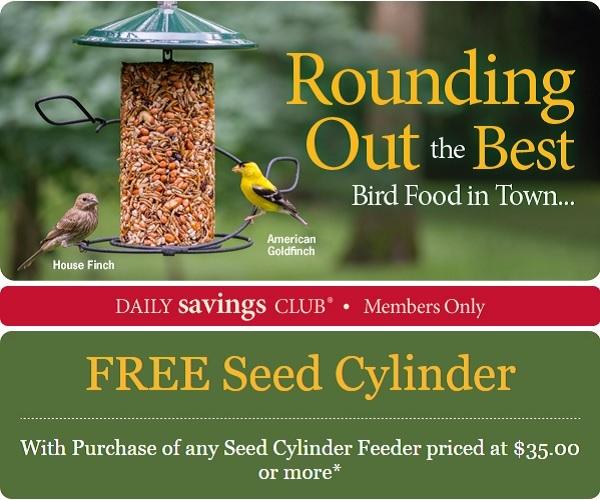 *For DSC members only. Valid on in-store purchases only. One discount per purchase. One discount per membership. Not valid with other discounts or previous purchases. While supplies last; no rain checks sorry. Offer valid with the purchase of any Seed Cylinder Feeder of $35.00 or more, receive any flavour of Small Seed Cylinder (1.75 lbs. – 2.00 lbs) Free. Free giveaway applies to small seed cylinders only. This offer's terms and conditions are subject to change without notice at any time. Valid July 21/2016 through July 31/2016.
How to Attract More Birds with Seed Cylinders
WBU Seed Cylinder Feeder
Unique food requires a unique feeder. Our Seed Cylinder Feeders are the perfect blend of creative design and birdfeeding functionality. Whether you want to attract clinging birds such as woodpeckers or perching birds like chickadees, these feeders will accommodate a variety of birds and their eating preferences. They're easy to fill and are capable of housing our small (2 lbs) or large (4.5 lbs) seed cylinders.
Woodpecker Family Activities

Families opting to stay close to home this summer won't have to travel any farther than their backyards for fun and entertainment. Across the country, adult woodpeckers are introducing their young fledglings to a whole new world of experiences.
People who only feed the birds during the winter miss out on summer bird feeding fun and fascinating wild bird 'family life' activities. By mid-summer, woodpecker fledglings begin leaving the nest and are fed and taught to eat from feeders by their parents; a fascinating interaction to observe.
The health and growth rate of a fledgling is determined by the amount of nutritional foods it consumes. High-protein and high-calcium foods are especially important until a bird is full grown. Fledglings require a lot of protein to help them grow strong, properly-colored feathers and strong flight muscles.
Help your birds with high-protein foods like mealworms, peanuts, Jim's Birdacious® Bark Butter® and suet. These energy-packed foods will entice your birds and their young back to your yard. The young birds will learn the location of your bird food and begin to make return trips on their own.
You can recognize Downy and other woodpecker fledglings by their fresh and dapper plumage, whereas that of the adults is worn and dusky from their repeated trips in and out of the nest cavity.
After a few weeks, the parents stop feeding their fledglings and may even peck at them if they persist in begging for food to get them to feed themselves.
With lots of young woodpeckers around and the molting process in full swing, woodpeckers are seeking the extra calories and proteins that feeders can provide.
Visit us soon and we'll make sure you have the expert advice and quality hobby products you need to make friends with some of the cutest birds in the neighborhood.
How to Attract More Birds with Mealworms
How to Enjoy Feeding the Birds in the Summer