BLACK FRIDAY ONLY- November 27, 2015, 8 am-6pm
We are opening early on Black Friday at 8 am

*Valid on in-store purchases only. One bag per person. Limited of one coupon per visit. One discount per person. Offer not valid with other discounts. Offer not valid on previous purchases, gift cards, optics, jewellery, books, artwork, Dickey Bee Honey Products, Brome Bird Card Products, Ulat Dryer Ball Products, DSC memberships, special orders or sale items. Items must fit fully inside our designated WBU shopping bag and may not extend beyond the bag handles. While supplies last sorry no rain checks. Valid ONLY on 11/27/2015 from 8 am- 6pm at WBU Barrie. Please note returns will not be processed on November 27, 2015.
Club Members Special November 19-30, 2015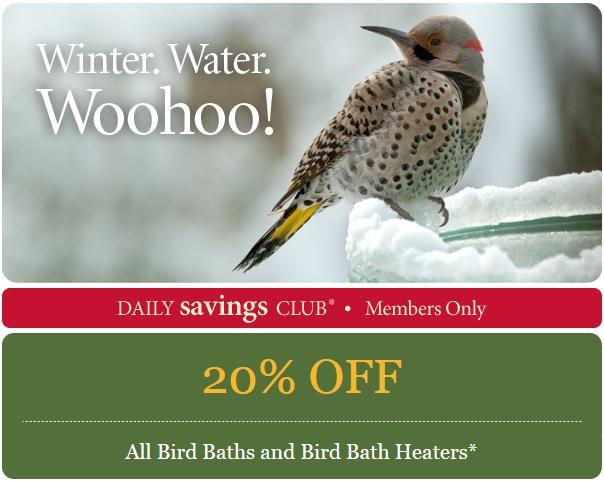 *For DSC members only. One discount per membership. Limit of one coupon per visit. Valid on in-store purchases only. One discount per purchase. Offer not valid with other discounts, on previous purchases, special orders or sale items. Offer valid only on bird baths, bird bath stands, bird bath heaters and de-icers. Offer valid while supplies last, sorry no rain checks. This offer's terms and conditions are subject to change without notice at any time. Offer valid 11/19/2015 through 11/30/2015.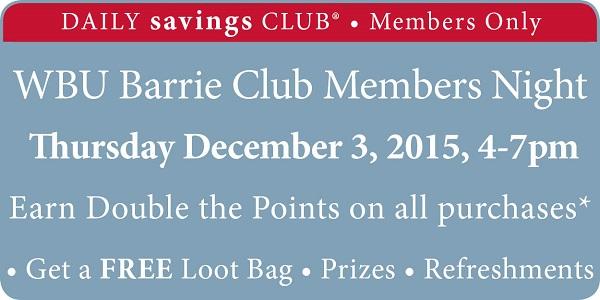 *For DSC members only. Limit one coupon per visit. Valid on in-store purchases only. One discount per purchase. Not valid with other discounts, on previous purchases or on optics. Sorry no rain checks. Valid 12/03/2015 form 4pm-7pm only at WBU Barrie.

Looking for the Out-of-Towners
You may have spotted a few feathered out-of-towners that are sticking around for winter.
Winter is a great time to look for uncommon bird species. Juncos and other sparrows and finches may be making a repeat appearance in your yard this winter as many of them come back to the same exact location each year.
Keep your feeders full and look for birds associated with "irruptions." When natural winter food supplies are scarce in northern
Canada, numerous bird species "irrupt," migrating south in search of food.
The most common irruptive birds are Pine Siskins, Purple Finches, Common Redpolls and Evening and Pine Grosbeaks.
By offering the right food (in the right place), you can better your chances of attracting some of these birds.
Juncos
Lovers of millet, you can attract Juncos to your yard by offering WBU Deluxe Blend in a ground feeder or hopper feeder. They're
persistent foragers and have been known to burrow through snow in search of seeds.
Pine Siskins, Purple Finches & Common Redpolls
These "winter finches" are attracted to Finch Feeders filled with Nyjer® (thistle). You can also attract them to your Seed Tube Feeders by offering Supreme Blend.
Grosbeaks
If they're visiting your yard, be ready - they are hungry birds. For best results, offer Supreme Blend in a Hopper Feeder. Before
the 1850s, Evening Grosbeaks were not commonly found east of the Rocky Mountains. Now, winter irruptions can occur across the country.
As you can see, our feathered guests' tastes and preferences vary, so it's important to be prepared. Because before
you know it, these out-of-towners will be just that - headed out of town.
Visit us this month, and we'll make sure you have everything you need to keep your resident birds happy and to attract these winter migrants.
The Season's Not-so-Lone Rangers
Remember the Lone Ranger? Ever notice how he wasn't really alone? He always had his trusty sidekick, Tonto at his side. Why? Because there is strength in numbers.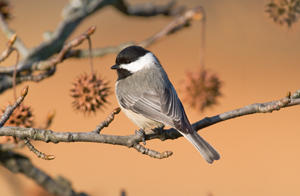 Well, there is strength in numbers in bird feeding, too.
During fall and winter, some nuthatches, titmice and chickadees search for food together in a "foraging guild."
This results in many eyes looking for 1) the now dwindling supply of natural food and 2) potential predators. Birds in the guild recognize each other's alarm calls. This lets the guild keep a collective watch for predators and allows the individual birds to concentrate more on finding food.
Fortunately, chickadees, nuthatches and titmice are some of the hobby's most adored feeder visitors. They're small and cute, their movements are quick and erratic, and though they're gone from feeders just as fast as they arrived, it's easy to be a big fan of these little birds.
Chickadees, nuthatches and titmice are also typically the first and easiest birds to attract to feeders in a wooded setting.
They have a mixed preference for sunflower (in and out of the shell), safflower and peanut pieces for caching (to retrieve and eat later), ingredients found in many of our exclusive seed blends, cylinders, Stackables®, Jim's Birdacious® Bark Butter® Bits and more.
Visit us soon and we'll make sure you have everything you need to see more of these not-so-Lone Rangers in your yard.

Providing High-Fat Foods
Typically, your feeders serve as a supplemental source of food for birds in your yard. In contrast, during periods of cold and severe winter weather, your birds may switch to utilizing them as the critical source of food that enables them to survive from day to day.
A 3-year study in Wisconsin concluded that when temperatures fall below 10 degrees, Black-capped Chickadees without access to feeders have only a 37% survival rate as opposed to the much higher 69% survival rate for those able to utilize feeders.
If chickadees are representative of other feeder birds, then your feeders can make a big difference in the number of birds that survive the winter.
Also, birds may burn up to 10% of their body weight in stored fat each night to stay warm…and this fat must be replaced every day.
Be sure to keep your feeders filled with the high-energy, high-fat foods that provide your birds with the crucial nutrition they need to survive.
High on the list of best choices to meet this nutritional need is Jim's Birdacious Bark Butter. This peanut butter-based treat is loaded with fat and protein and is known to attract more than 100 species of birds.
Stop by the store soon, and check out the wide selection of high-fat foods that will help your birds fatten up and stay warm.

Bring Home a Seed Character Today
Honestly, could they be more adorable? Available exclusively at Wild Birds Unlimited, we offer several fun seed characters, including Millie the Bird, Blossom the Skunk, Rascal the Raccoon and Buttons the Snowman. Each is a mix of seeds, nuts and fruit and a wonderful addition to any yard.
These characters can help you attract many of your favorite birds, including chickadees, woodpeckers and goldfinches.

*For DSC members only. Valid in-store only. No purchase necessary. While supplies last. One free 2016 Wild Birds Unlimited Calendar per DSC membership. Limited supply, while supplies last. Sorry no rain checks. Valid now through November 30, 2015 or until they are all gone at WBU Barrie.