Birds love our exclusive seed cylinders and no-melt suet cylinders. Unfortunately, so do many nimble, furry backyard inhabitants.
Well, no more! We've added some heat to our bird food cylinders. While birds such as chickadees, titmice and nuthatches readily eat foods containing hot pepper, pesky critters will shy away from them.
For best results, use a cylinder feeder with a roof to prevent the hot pepper from being washed off or diluted by the weather.
15% Off Hot Pepper Products*
*SAVE 15% On ALL WBU Hot Pepper Bird Food Products (cylinders and suet). Club Members Remember you SAVE an Additional 5% OFF the Sale Price. Valid on in-store purchases only. One discount per purchase. Not valid with other discounts, previous purchases or on special order items. While supplies last, sorry no rain checks. Valid 09/01/2015 through 09/13/15 at WBU Barrie.

Solving Blackbird, Dove and Pigeon Problems
Sometimes you just have too many blackbirds, doves and pigeons. They can eat more than their share of food and chase other birds away. However, there are several solutions to keep these birds from monopolizing feeders.
The Right Food
Many birds will sweep through seed blends to find the seed they want to eat. Uneaten seed gets tossed to the ground. By offering the right blend for the feeding situation, you can reduce the mess that accumulates below the feeder and eliminate the problem birds that hang around the area.
Try offering:
blends loaded with oil sunflower. They are less likely to be picked through and swept to the ground.
safflower. It's a small, white seed that is high in protein and fat. Many of your favorite birds will readily eat safflower; blackbirds, like starlings and grackles, typically do not.
a no-mess blend, preferrably without millet, and/or a high quality blend that contains sunflower, safflower or peanut pieces.
Avoid offering:
discount blends with cereals and fillers, such as wheat, oats, barely, milo and flax seed. These just end up in a pile under feeders.
corn, especailly cracked corn. Blackbirds, doves and pigeons love it.
Feeder Solutions
Though adding a tray to the bottom of a seed tube or finch feeder will minimize mess, it allows larger birds, like pigeons and doves, to dine easily. Deter larger birds from visiting your existing feeder by adding an On-Guard™ wire mesh cage. Our On-Guard solutions are designed to allow smaller birds access but prevent doves, pigeons, even blackbirds from reaching the food in a feeder. We offer a variety of cages that easily fit on our seed tube, finch, peanut, suet and some of our specialty feeders.
Solution Feeders
We offer a variety of feeders that help you feed only the birds you want.
EcoTough® Upside-down Suet Feeder - This feeder is designed to allow birds to feed from below, a comfortable practice for woodpeckers, nuthatches, chickadees and other clinging birds but difficult for starlings.
Dinner Bell™ feeder - Use this versatile feeder to offer a number of different foods. The Dinner Bell's adjustable dome can be raised and lowered to allow access for smaller birds.
The Eliminator™ and Fundamentals Squirrel-proof feeders. Both of these feeders are weight-sensitive and will close off access to the food when heavier visitors, such as squirrels, pigeons and most doves, sit on a perch.
Backyard Bird Feeding Solutions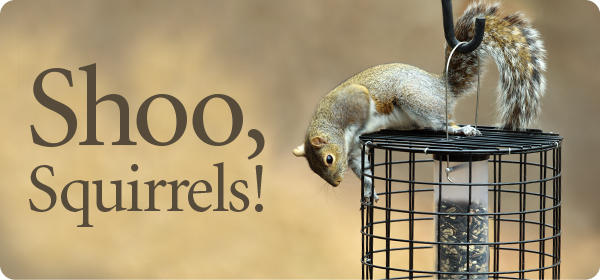 While summer continues to be a wonderful time to feed the birds, unwanted feeder visitors can be troublesome. With the proper feeders, food and accessories, you can enjoy your birds and limit these possible problems.
Safflower
Offer safflower, and keep starlings and grackles from eating all your bird food, crowding your feeders and chasing away the birds you want to see. Safflower is a small, white seed that is high in protein and fat. Most song birds eat safflower, however, starlings, grackles and squirrels typically do not.
Guard Against Squirrels and Large Birds
Take delight not only in seeing the finches, chickadees and other colorful birds you enjoy, but also in frustrating the squirrels, grackles, pigeons and starlings. With our On Guard™ cages, you control the size of bird that dines at your feeder. They allow small birds to go in and out to get their seed but stop larger birds and animals from entering. Our cages will fit a variety of feeder styles and sizes.
Our Top-of-the-Line Squirrel-Proof Feeder
The Eliminator™ allows you to stop squirrels from eating your seed. Featuring unique, weight-sensitive technology, the feeder's seed ports are closed when a squirrel touches the perch ring. You can set the sensitivity level to also exclude large birds such as pigeons or doves. It's easy to hang, holds about three quarts of seed and is backed with a limited lifetime guarantee.
Baffle Your Squirrels
Our Advanced Pole System® (APS) Squirrel Baffle is designed to help make your bird feeding station squirrel-resistant. Made of durable, powder-coated steel, these baffles feature a tapered design that is very effective in stopping squirrels before they reach your feeders.
Place your baffle on your setup so the top of the baffle is 4½' - 5' from the ground.
We also offer raccoon baffles.
How to Say "No" to Squirrels
WBU Eliminator™ Squirrel Proof Feeder