2016 JUNE DSC PROMO -BUY 1; GET 1 FREE BARK BUTTER
*For DSC members only. Buy one Bark Butter item (Bark Butter bits 1.58KG, Bark Butter Spreadable 907G, or Bark Butter Suet Plugs 3568G); get one of equal or lesser value FREE. Valid on in-store purchases only. One discount per purchase. Not valid with other discounts, previous purchases or sale items. Sorry, no rain checks. This offer's terms and conditions are subject to change without notice at any time. Valid June 23/16 through June 30/16 at WBU Barrie.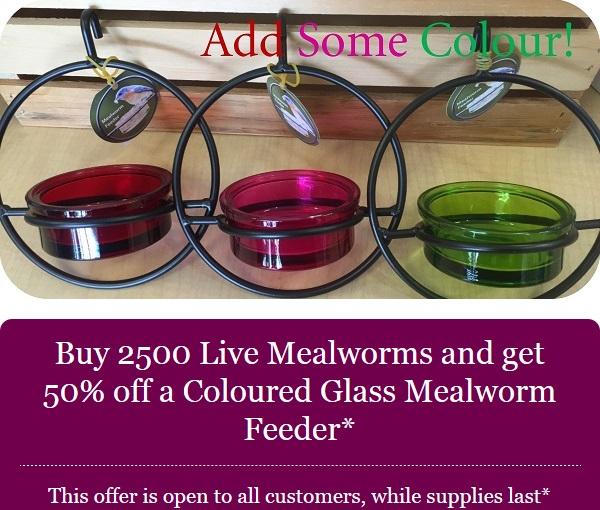 *Valid on in-store purchases only. Purchase of 2500 live mealworms get the Couronne coloured glass & metal 7" Hanging Mealworm Feeder (Item #7983, 7984, 7987 and 7985) for 50% OFF. Offer not valid on previous purchases or with other discounts. Offer valid while supplies last (sorry no rain checks) at WBU Barrie.
How to Attract More Birds with Mealworms
How to Enjoy Feeding the Birds in the Summer
Live Leafcutter Bee Cocoons Still Available!
Alfalfa Leafcutter Bee Cocoons: The Alfalfa Leafcutter Bee (Megachile rotundata) is a smaller bee than the mason bee but just as gentle and as hard working. They tend to hatch out of their cocoons in mid to late July, being cued to do so by heat and daylight hours. The leafcutter bee is a cavity dwelling bee, so she lays her eggs in existing holes. She does not create holes or damage structures to make holes. Leafcutter bees stay close to home, foraging for pollen and nectar within 100m (300ft) of the nest.

The Alfalfa Leafcutter Bee are a useful friend to gardeners as they provide valuable and efficient pollination for plants such as your summer vegetable gardens. Like mason bees, these bees are cavity nesting and need ready-made nests such as soft rotting wood, pithy plants stems like roses or man-made tubes. Once a suitable home is found the Alfalfa Leafcutter bee will build its nest using pieces of leaves for lining. By overlapping leaf pieces, it makes a cylindrical cavity that looks like a cigar. Leafcutter bee makes a crescent or almost circular shaped hole in the leaf. This damage does not harm the plant. Like mason bees these bees are gentle and observed without the fear of being stung.

There are 25 Alfalfa Leafcutter Bee cocoons per package. Alfalfa Leafcutter Bee cocoon must be placed outdoors no later than July 1.

Pollen Bee Emergence Chambers: The Pollen Bee Emergence Chamber provides a safe place for emerging bees. This shelter is to protect your overwintering cocoons from predators and the elements and allows bees to emerge in the spring. The fine workmanship makes these shelters pest and rodent resistant from fall to spring. The Pollen Bee Emergence Chamber is made from pine to withstand the elements and the hinges and clasp system allow for easy monitoring of your cocoons. Set shelters on a shelf away from predators and close to a pollen bee nest. Female bees will return to the area they hatched to lay their eggs and having a pollen bee nest available to them will ensure the bees continue to flourish in your area. When the weather warms up the bees will safely emerge from their cocoons. Each shelter will hold 100 or more leafcutter bee cocoons.

Dimensions: 6" Length x 4" Width x 2" Height