Help Your Birds Survive Extreme Winter Weather
Help Your Birds Survive Extreme Winter Weather
You can play a vital role in helping birds as extreme winter weather occurs. Feeding the birds becomes critical at these times. A reliable supply of food can mean the difference between life and death for a bird.
Food is the most essential element, providing birds with the energy, stamina and nutrition they need. To stay warm, birds will expend energy very quickly, some losing up to 10% of their body weight on extremely cold nights. An ample supply of high-calorie foods such as sunflower, nuts, suet and Bark Butter Bits is crucial to a bird's survival.
Stop by the store today and let us show you which high-energy foods will help your birds brave the cold snap!
Help Your Birds Spring into Action
It's a busy time of year for your backyard birds. They're expending a lot of energy as they establish territories, attract mates and forage for food.
During nesting season, birds are looking for foods that are high in calcium, an ingredient that helps promote stronger eggs and healthier bones for mother birds and their babies.
We offer a variety of foods with added calcium to give your birds a boost this time of year.
$5 OFF $25
*Valid only at the participating store(s) listed. One discount per purchase. Not valid with other discounts or offers or on previous purchases. Not valid on sale items, Brome Bird Care Products, books, artwork, gift cards, optics or Daily Savings Club memberships. Offer expires 3/16/14.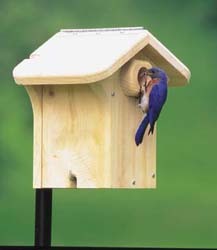 Nesting Invitation
Spring officially arrives this month. Migration, courting, nesting and gardens coming back to life all provide opportunities to view and feed wild birds.
Listen for the ever increasing dawn chorus as the birds are singing out. Bird song is a method of attracting a mate and defending a territory and during springtime. Songbirds are greeting the new day with a rising crescendo.
It is also the call for us to prepare our back yards for the spring nesting season by cleaning nest boxes, feeders and bird baths as well as offering ideal homes and foods for nesting birds.
WBU nest boxes have been specially designed and constructed based on species-specific requirements. Our nest boxes have good ventilation, drainage, insulation, protection from the elements and predators, easy cleaning and durability.
Foods that nesting birds seek include protein and calcium and are found in a number of WBU offerings such as any of the WBU Plus Blends, any of the Jim's Birdacious foods, select WBU suet doughs as well as mealworms.
It's the perfect time to invite birds to nest in your yard by installing nest boxes and offering nesting foods to help birds thrive during nesting season. Enjoy attracting them to our yards for a more intimate look while they raise families.
How to Attract Bluebirds with Food